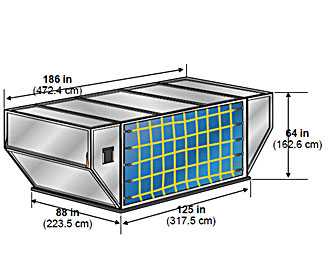 Measurements
Base: 88 in (223.5 cm) x 125 in (317.5 cm)
Top: 88 in (223.5 cm) x 186 in (472.4 cm)
Height: 64 in (162.6 cm)
Max Gross Weight
4626kg/10501lbs, Except one position (6033 kgs)
Tare Weight
265kg/593lbs
Volume (max)
485 cu.ft. (13.9cu.m.)
*Please note, all Unit Load Device information and aircraft compatibility are subject to change without notice. Please check with your carrier for specifications and technical support.