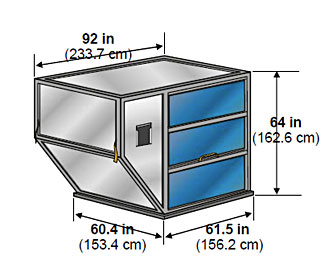 Measurements
Base: 60.4in (153.4cm) x 61.5in (156.2cm)
Top: 92in (233.7cm) x 60.4 in (153.4cm)
Height: 64in (162.6cm)
Tare weight
70 to 170-kg (155 to 375-lb)
Max Gross Weight
1588kg/3493lbs
Volume (max)
170 cu.ft. (4.8cu.m.)
Also Known as
AVC | AVD | AVK | AVJ | AVY
*Please note, all Unit Load Device information and aircraft compatibility are subject to change without notice. Please check with your carrier for specifications and technical support.